Skip to end of metadata
Go to start of metadata
We're halfway into Movember and the Mo Bro's are making some serious progress. Although Sloat has resorted to taking headshots in black and white to increase contrast...and Revo is starting to look more and more like Ron Jeremy everyday.
The Donation Situation
_"Movember is helping to support three vaccine research programs and move 12 new medicines from the laboratory to clinical trials. These may alleviate pain and suffering for the nearly 2.5 million men and their families who are currently facing prostate cancer in the U.S. How else can we say thank you from the bottom of their hearts and ours?" said Dr. Jonathan Simons, Prostate Cancer Foundation President and CEO, "Without Movember, the progress of those projects would have been hindered."
Kudos to the Sydney boys who picked up their game and have now overtaken the San Franciscans in their fundraising efforts._
Mo of the Week
The results are in and thanks to the Survey Plugin it's clear to see that Todd was the clear favourite for the Mo of the Week.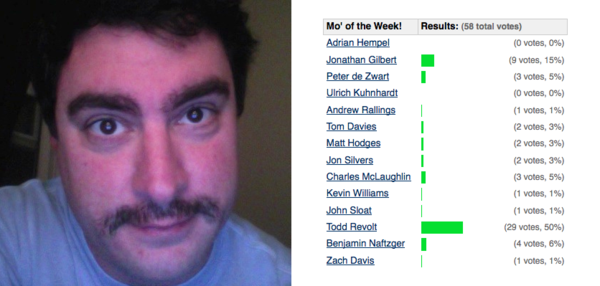 What about the other Mo Bro's?